Welcome to our forums.
@telmel wrote:

only done the one around london but still a great experience
Please tell me more about this, what did entail where from and too. Presumably not a sleeper train?
Would love to do the orient express, only done the one around london but still a great experience
Morning @RonSmith and fellow travellers,
What a wonderful idea!
Sadly I haven't sampled the Orient Express but I did enjoy a day out on the British Belmond some years back. You can read my feature here:
https://www.silvertraveladvisor.com/blog/rail/a-perfect-day-on-the-belmond-british-pullman
We found it a fabulously elegant and luxurious day with all our fellow travellers also celebrating something or other.
I have alway fancied the excursion that includes lunch at The Manoir… I keep dropping hints…
Whatever you chose to do I hope you and your wife have a wonderful time.
Best wishes Sally
Page 15 of the current Your Holiday and Cruise Magazine has an article by Geoff Moore on his trip on said train.
We are looking to travel by sleeper train to Scotland next year and would love to hear of anybody's experience of this journey.
I've enclosed a picture of the steam train in Dawlish. It is of "Tornado" newly built in 2008.
Hi Ron
Yes its a one way ticket.
Usually a return BA flight is included
Luxury trains are a fabulous experience but the Orient Express is only one night so its fairly brief. Also, be aware that luxury on this train is 1920's style so that means no en-suite – you'll need to wander down the carriage to the bathroom. What people seem to enjoy most is the very smart & elegant dressing up & the socialising after dinner (i.e. dinner jacket & cocktail frocks are the norm) – a swish cocktail party atmosphere.
For me the Eastern & Oriental Express from Bangkok to Singapore is a much better trip. Private cabins have en-suite facilities, its a 5 night journey with several stopovers & organised trips; you get a personal steward, fantastic food, there are several lounge, bars, viewing carriages, there's interesting on-board activities but above all it's less stuffy & more informal.
At this point in time, with the virus, the British Pullman options are clearly the best choice, there's a wonderful Scottish version, & they really are a fabulous experience.
Regards Peter
Morning @RonSmith
I have to say that if your wife has her heart set on the Orient Express, then only you will know if any substitution will hit the spot. From my perspective the British Pullman was very Orient Express like. We were seated in a carriage panelled with maple wood, the food & service was impeccable, we very much felt like lottery winners.
Here's a link to a site I find very useful for train travel, it seems to say that the VSOE fare is one way but gives you ideas for the return journey. I may be a little out of date as it mentions some 2016 dates but its useful info, including the fact that the VSOE is also not the "real" Orient Express
https://www.seat61.com/Venice-Simplon-Orient-Express.htm
I'm not sure what your budget is, so here's a couple of ideas:
1. Take the British Pullman for a day out, on return to London stay overnight in a decent London hotel. Next morning catch the Eurostar to Paris (top class of course), Have a champagne lunch on a a Seine river cruise e.g. https://www.bateauxparisiens.com/en/meal-cruise/lunch-cruise.html (there are plenty to choose from). Overnight in Paris (do a night visit to the Eiffel Tower….. its very different), then back to London.
I'm pretty sure you could do this in style & have change from the VSOE prices
2. Throw caution (and budget) to the wind (she is your one true love after all) and go for the double, the VSOE and the Pullman (should earn you enough credit with your wife to last a year
)
See https://www.greatrail.com/tours/venice-simplon-orient-express/#VSJ20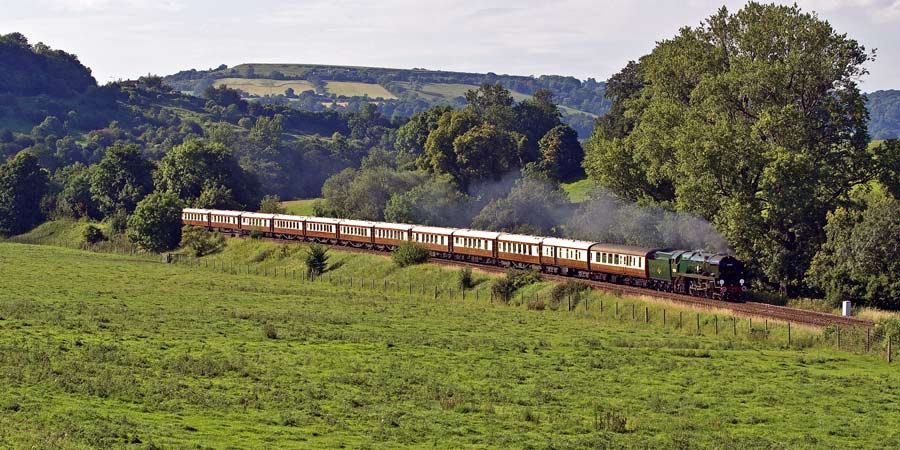 Whatever you decide Great Rail Journeys have a useful site and could take all the hassle out of any trip you may decide on by giving advise and doing the booking for you.
Hope that is of help and I hope Mrs Smith has a wonderful 70th birthday whatever you decide to do.
Steve
Hello,
Many thanks for your reply and lovely welcome.
I see, an option could be to go to a local destination and make a day of it rather than travel abroad. It would make things easier.
This isn't something I had previously considered.
I presume it's a different train? Would you say the experience is very much of that one would associate with the 'Orient Express'?
Kind regards
Sign in to add your message
Threads possibly related to this one